Synthetic aperture is a signal processing technique used to increase image resolution by synthesizing information from multiple subapertures, but the resolution improvement is limited by the physical size of the array transducer. Our co-robotic approach extends the effective aperture size by providing accurate tracking information and force-control compensation in a rapid execution.This concept can be applied in both 2D and 3D ultrasound/PA imaging for resolution and contrast enhancement together with field-of-view extension. Figure 2A shows STRATUS images through 2D scanning of an ultrasound phantom. Leveraging the smart tools research thrust, we extended this approach from a conventional US array to tracked single element needle ultrasound for lumbar puncture guidance (Figure 1).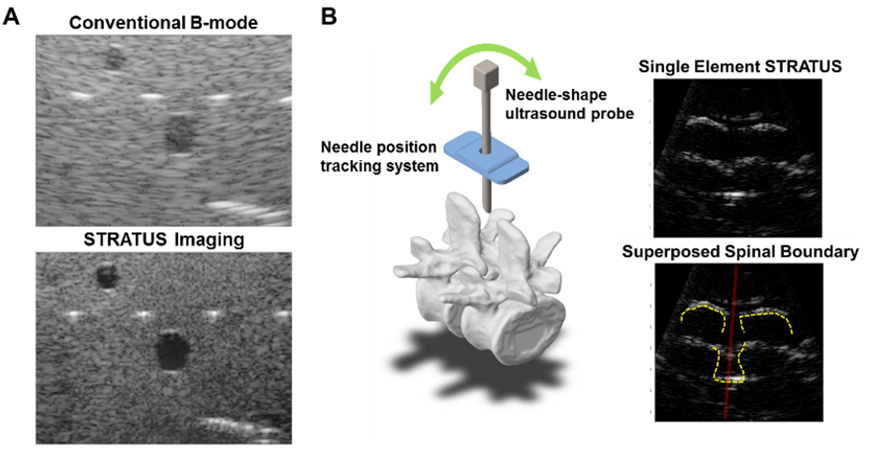 Publications
Zhang HK, Bottenus N, Cheng A, Guo X, Trahey GE, Boctor EM. Synthetic tracked aperture ultrasound (STrAtUS) imaging: design, simulation, and experimental evaluation. J Med Imaging. 2016;3(2):027001.
Zhang HK, Kim Y, Lin M, Paredes M, Kannan K, Moghekar A, Durr NJ, Boctor EM. Toward dynamic lumbar puncture guidance using needle-based single-element ultrasound imaging. J Med Imaging (Bellingham). 2018;5(2):021224.